Newegg is the leading technology-focused marketplace in the US and Canada. Initially, Newegg focuses mainly on distributing to customers the latest electronic devices, smart home furniture, and gaming & entertainment products. With the rise of eCommerce in the past few years, Newegg has expanded its category to offer a wide range of products such as apparel, arts and crafts, jewelry, and home goods, though the main traffic coming to Newegg is still looking for tech-based items.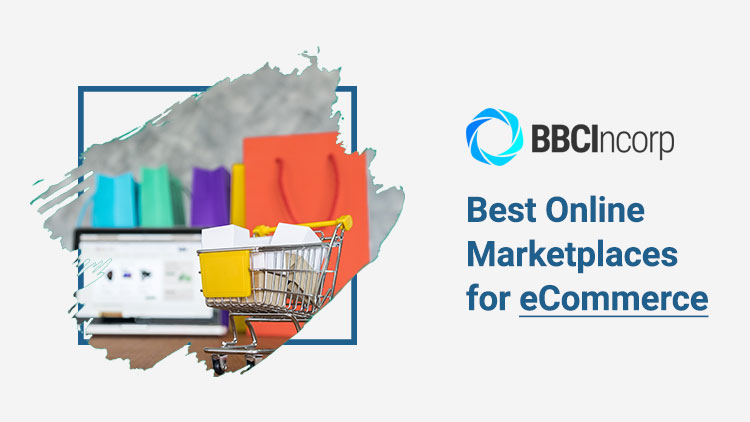 Benefits of Selling on an Online Marketplace
Large Prospects Base
First-party (1P) or third-party (3P) sellers often take their businesses onto big online retail platforms with the confidence that their products will gain more exposure in the market. This would mean a significant cost reduction in customer acquisition and more resources allocated towards other important aspects of a business.
Quick Setup Time
Online marketplaces are designed in a way that they can help streamline the entire business launching process in a quick and efficient manner. You can have a store set up in a matter of hours, all you need is to be certified of your business's legitimacy and you're off to setting up your storefront!
Customer-centric UX/UI
The sale-closing power of online marketplaces lies in the seamless and memorable shopping experience they can provide for customers. It's been reported that buyers show strong inclinations towards brands that offer relevant and interesting recommendations.
You'd be pleased with the amount of optimization done on these platforms. Responsive drop-down menus, masterfully curated product sections and non-intrusive notification systems are some of the prime benefits you as a 3P seller can offer for your customers.
Strong Brand Familiarity
How much a customer is willing to bypass their perceived risks and proceed with the buying decision relies on their initial perception of the brand itself. Industry giants like eBay and Amazon use their established credibility to empower sellers on their platforms and instill trust within their customers.
Low Maintenance
This benefit also comes with other cost-efficient IT solutions, such as having access to the latest hardware available. By selling on these platforms, you can leverage their cutting-edge technology to your advantage and keep up with the fast competition.
Top 7 Best eCommerce Marketplaces to Set Up Business in 2022
Amazon
When it comes to sheer prospect numbers, Amazon blows most of the competition out of the water. Boasting almost 49% of US e-commerce sales alone, it's not a stretch to say that it's currently the biggest hub in the eCommerce world.
As of now, it remains the go-to sales channel for medium to large-scale businesses alike. And although Amazon has had its fair share of shortcomings – mostly on resellers loyalty retention – the benefits from selling on the platform far outweigh the cons.
FBA sellers have the privilege of placing the order fulfillment part entirely on Amazon and are automatically Prime-eligible. This is done regardless of the seller's ability to perform order fulfillment to ensure customers can receive the most uniformly efficient service from Amazon.
As for the FBM alternative, sellers are given the option to fulfill the order on their own with full benefits from FBA intact except for Prime integration. Only reputable-deemed sellers can apply for it, the biggest reason being that they most likely have heavy cargo so this option can help them shave off some hefty overweight fees.
Anti-monopoly Environment. It certainly pays to be big, as most online platforms seem to be more favorable towards big and established brands in most things, even at the expense of other smaller businesses.
On Amazon this is simply not the case, as the algorithm is designed to provide a level playing field for both small and large sellers in which to compete. And with programs like FBA made available, first-timers can have an on-hand experience of what it's like to sell on Amazon without needing the abundance of capital.
Enhanced Customer Experience. A polarizing factor of Amazon is its impressive same-day shipping offer, made possible by the encompassing network of warehouses worldwide. The product gets shipped to one of these warehouses the moment it's put in the shopping cart.
For any product complications post-purchase, Amazon will see that it gets resolved within 24 hours. Order refunds, change of shipping address, and other related matters are processed solely by Amazon to ensure peak customer satisfaction.
eBay started as a P2P marketplace with online auctioning as the main selling format. People used to make money by placing their items on digital auctions, from which eBay took a percentage cut as referral fees. Their "Buy it Now" feature was later implemented to adapt as the consumers began to be more on-demand with their shopping.
Low Fees. While Amazon has more diverse shipping offers and prices, they charge individual sellers anywhere from 6% – 45% as referral fees per product on top of other incurring fees. Over time, this can stack up a lot and affect your bottom line for the worse.
Fast & Cheap Shipping. eBay does not spare any expense when it comes to order fulfillment, evidenced by the generous amount of shipping discounts granted to businesses. Some discounts can go up to 52% which proves more enticing compared to other marketplaces.
Walmart
In 2021, Walmart U.S alone has accumulated an impressive 43 billion dollars in eCommerce sales, an increment of more than 70% in contrast with 2020's statistics. The platform has had a good track record of growth and is set on the right course for future expansion.
Low Competition. Walmart Marketplace only accepts the finest sellers into their platform, of which it now has +100,000 members. To make the list, you'd have to be able to provide high-quality products competitively priced while also maintaining a high level of customer service.
Getting past this high entry barrier would yield the initial benefit of giving your products a higher chance of being listed more often on their site. Furthermore, it automatically increases your brand's credibility in the eyes of consumers.
Higher Conversion Rate. Every large marketplace has some form of buy box algorithm implemented in its infrastructure. Simply put, the buy box is an algorithm that, when granted, can put the products into favorable real estate on Walmart's front page.
Budget-Friendly Advertising. PPC campaigns on most online platforms can be costly, especially for small businesses trying to generate leads. At Walmart, they only charge you a fee for a product sold, which means less money on ad campaigns and higher profits back to the business.
Rakuten
Envisaged and founded in 1997 by Hiroshi Mikitani, Rakuten is Japan's very own Amazon.com but with more diversity into the mix. The platform is commonly known as a B2B2C marketplace but the company also offers fintech, digital content, and communication services to clients.
Rakuten's competitive edge comes from the vast array of acquisitions and joint ventures it has made over the years. With names like Viber, Viki, Ebates, etc. incorporated into the business, Rakuten stands as a force that can go up against goliaths in the industry.
Benefits of Marketplace Ecommerce
• A marketplace allows the business or platform operators to charge a cut on the products that the vendors sell therefore exponentially increasing the profit opportunities.
• E-marketplaces provide a transparent purchasing process as factors such as the prices of the product and availability of the stock are all accessible on a single platform in an open environment.
• Better opportunities for suppliers and buyers to establish new trading relationship either within or across their supply chain.
• Time constraints for trading across geographies is eliminated because of the online platform which operates round the clock.
• The buyers get a wide variety of options on products to compare on a single website. Thus helping them find the most reasonable price for the best quality product.
• Real time updated information on the price and availability makes it easier for the buyers to get the best deal.
• The buyers can find trusted established vendors and build a trading partnership by dealing exclusively with them.
• Smaller stores or vendors who are not sure about establishing their own eCommerce website or want to reduce their marketing costs can align themselves with these larger businesses and gain visibility through their fulfillment options.
• Regular exchange of quotes between the new and the old vendors is possible, thereby streamlining and maintaining- standardization.
• The platform acts as an additional sales channel to market and sell their products.
• Enables oversea sales by providing opportunities to trade in the international e-marketplace.
Start selling globally today!
We have explored the best eCommerce marketplaces both globally and locally in this article. All marketplaces in this list have received a huge amount of quality traffic as well as offer a multitude of products and allow sellers to start selling with ease.
Expanding your business to a new market is not easy, and the fact that there are too many options available can make it harder to select the online marketplace that best fits your business capability. Therefore, it's essential that you examine the market insights and go through the best eCommerce niches for growing potential before jumping into any online selling sites.
We hope that you can find the best platforms to expand your business and scale faster. Don't hesitate to tell us about your journey in finding a new market. We are eager to hear how your business is thriving!
FAQs
eCommerce marketplace is a shopping platform to facilitate commerce between sellers and buyers. Meanwhile, an eCommerce platform is a software that allows you to create and manage all the commerce functions, such as marketing, operations, and logistics at your own online store so that consumers can view and place orders.
If done properly, selling on online marketplaces should be considered a complement – not a competition – to your online store. Starting an online business may seem like a challenging task at first, but it gives you full control over your own business and leverages your brand name better. Meanwhile, an eCommerce marketplace will give you access to a potential consumer group.
Every market holds its own potential to help your business grow. The best online marketplace should be a good fit for your products and targeted audiences as well as give you the capability and resources to scale over time.
Sources:
https://bbcincorp.com/resources/online-marketplaces-for-ecommerce
https://www.happiestminds.com/Insights/ecommerce-marketplace/
https://www.simicart.com/blog/ecommerce-marketplaces/